S3:EP7 – Stensland Brothers (Justin & Jason) w/ Stensland Family Farms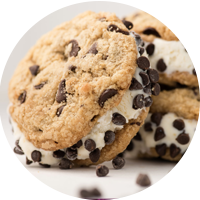 This was an incredible episode about a couple of farm kids who set out with a dream and they didn't stop. Overcoming loads of adversity, challenges, and 'shooting from the hip', Jason and Justin Stensland bought some dairy cows as teenagers and grew a business that develops local, farm to table ice cream, cheese, milk, and more.
Listen to this truly inspirational and raw interview with Jason and Justin Stensland about their journey in building Stensland Family Farms.
PS. The attached image is not a photo of the Stensland Brothers. I couldn't quickly find a headshot of either of them online, so… An ice cream cookie sandwich will suffice.
Show Notes:
Visit StenslandFamilyFarms.com
Book a Farm Tour (it's fantastic!):