Technology drive provides local nonprofits with refurbished systems
In partnership with the Zeal Center for Entrepreneurship and SEAM, local biotech consulting firm, DRACO, launched its technology drive, Re:Boot Sioux Falls, on Monday, November 4.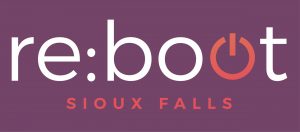 Re:Boot evolved from a project that one of DRACO's founders, Eric Sandhurst, had initially been operating on his own. He collected used computers, had them refurbished by friends who worked in IT, and then donated and shipped them to several nonprofit partners overseas.
Sandhurst is a graduate student at the University of South Dakota (USD), and it was there that a researcher contacted him with an idea involving one of his students, Jessica Zylla.
Zylla, a graduate student in biomedical engineering with an emphasis in bioinformatics, was looking for a service learning project, and partnering with Sandhurst seemed like the perfect opportunity. 
Together, the pair took Sandhurst's side project and applied it locally. Beginning in July, area nonprofits were invited to apply for donated and refurbished technology, including desktop computers, laptops, and tablets. 
Sandhurst emphasizes the impact these donations can have on a nonprofit's productivity and mission. 
"As we were reading through the applications, quite a few noted that when they're operating with just a few people or volunteers, it takes valuable time away from their core mission to write grants or apply for funding," Sandhurst said.
Ultimately, 12 local nonprofits were selected as beneficiaries of the program: 
Active Generations

Alpha Center

EmBe

Feeding South Dakota

Glory House of Sioux Falls

Habitat for Humanity of Greater Sioux Falls

Helpline Center

McCrossan Boys Ranch

Reclaim Community

The Salvation Army

Toy Lending Library of South Dakota

Volunteers of America, Dakotas
To fulfill the beneficiaries' requests, Re:Boot hopes to collect at least 200 systems.
Sandhurst emphasizes the safety and security of donating via SEAM, a certified and trusted authority when it comes to destroying data. Regardless of whether or not donors are able to wipe their devices prior to donation, they can rest easy in the knowledge that SEAM will remove any data and completely reset the systems. 
Following the refurbishment and distribution of systems to the nonprofits, DRACO will partner with students from USD, Dakota State University, and the South Dakota School of Mines and Technology to host a series of workshops focused on the smart, safe use of technology. 
"We're going to meet with each beneficiary separately to gage their actual needs," Zylla said. "But some topics will include resume building, job searching and applications, computer and internet safety, social media use, digital footprints, and basic programming and computer troubleshooting."
How can I donate?
Donations of desktop computers, laptops and tablets will be accepted through December 20, 2019.
Representatives from DRACO and SEAM will be available to accept donations at Zeal on Mondays from 4 p.m. to 6 p.m., Wednesdays from 10 a.m. to 12 p.m., and Fridays from 8 a.m. to 10 a.m. Appointments are also available if donors cannot make any of the scheduled times. 
Re:Boot is also asking for financial donations to support the purchase of additional necessary items like mice, keyboards, or discounted software. Sandhurst says they hope to raise around $2,500.00 toward those accessories and software. 
Financial donations can be made online or via check, made out to Dakota Research and Consulting Organization (a 501c3 organization). Checks can be dropped off at Zeal or mailed to DRACO, Zeal Center for Entrepreneurship, 2329 N Career Ave. Suite 213, Sioux Falls, SD 57107. 
For more information, visit realzeal.com/rebootsiouxfalls.