Economic Development Organizations
The Greater Sioux Falls Chamber of Commerce aims to be the leading Sioux Falls area business advocate, with the mission of advancing and promoting the economic health and quality of life of the region. Learn more about the Sioux Falls Area Chamber of Commerce at siouxfallschamber.com.
The Sioux Falls Development Foundation is a non-profit development corporation that facilitates the attraction of new businesses, the retention, and expansion of existing firms and the formation of new companies. Learn more at siouxfallsdevelopment.com or read our article.
Forward Sioux Falls is a joint venture economic development partnership between the Sioux Falls Area Chamber of Commerce and the Sioux Falls Development Foundation. Since 1987 it has raised more than $52 million to enhance economic development efforts and improve the quality of life of the region. Learn more at www.forwardsiouxfalls.com or read our article.
Downtown Sioux Falls, Inc. provides leadership to the downtown business community by fostering diverse experiences, economic growth, and a healthy environment. Learn more at dtsf.com or read our article.
Dakota Resources helps rural communities help themselves through innovative processes, tools, training and resources. Their ambitious initiatives are designed to enhance rural entrepreneur and business development, rural housing development, community and leadership development and financial development!! Learn more.
Research Parks and Incubation Facilities
The USD Discovery District is an 80-acre contemporary corporate and academic research park under development in Sioux Falls. It is a resource to help grow companies in South Dakota and connect universities with innovation-driven businesses. Learn more at usddiscovery.com or read our article.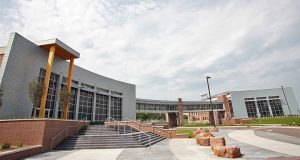 The USD GEAR Center provides a physical location for both private sector and university research activities, including USD's Biomedical Engineering Program. USD GEAR's specialized research suites, equipment, and technical staff are available to support public and private sector research activities. Learn more at USDDiscovery.com or read our article.