2019 Hey Sioux Falls Award Winners Announced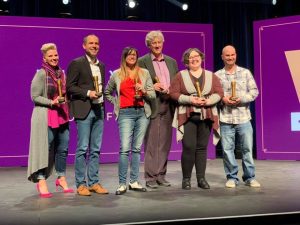 Six local entrepreneurs and companies were recognized for building great businesses or pushing the Sioux Falls entrepreneurial community forward at the second annual Hey Sioux Falls awards program on Thursday. Recipients were selected from eighteen finalists and more than 70 nominees.
The 2019 Hey Sioux Falls award recipients are:
New Startup of the Year: Advanced Remote Sensing, Inc.
Advanced Remote Sensing is developing unique, robust and accurate tools for crop insurance loss adjusting and precision agriculture.
Growth Startup of the Year: Weisser Distributing   
Weisser Distributing started in 1978 but has reinvented itself in the last decade by offering its products on every marketplace possible and expanding product lines. They are currently one of the fastest-growing companies in the U.S.
Startup Champion of the Year: Melissa Johnson
Melissa Johnson is a mother, an entrepreneur, a writer, and a storyteller. She began Oh My Cupcakes! over a decade ago with a tiny bank account and a big vision. Of all the hats she wears in a day, the one she loves to wear most is her Professional Encourager hat.
Small Business of the Year: Game Chest
Game Chest opened in the fall of 2017 and has already outgrown several locations and accomplished five-year goals in less than 24 months. Their next adventure includes putting Sioux Falls on the map with national and world-wide game publishers.
Corporate Innovator of the Year:  First Bank & Trust  
First Bank & Trust is a proud family-and employee-owned community bank. Their 600+ employees live the "Be the 1" service culture principles that guide their daily interactions and relationships with their customers.
Social Impact: The Barrel House
The Barrel House opened its doors in 2016 and has consistently demonstrated a passion for giving back to the community of Sioux Falls and helping those in need. Their efforts to support first responders and end childhood hunger improve our city.
Each Hey Sioux Falls award recipient received a bronze flashlight – a nod to the role they play in shining a light on entrepreneurship.
Hey Sioux Falls is a collaborative effort of the Sioux Falls Area Chamber of Commerce, Zeal Center for Entrepreneurship and 1 Million Cups. It is a celebration of the trials and triumphs of local entrepreneurs, and seeks to bring together everyone from established business leaders to early-stage entrepreneurs to celebrate the vibrant entrepreneur community in Sioux Falls.
The second annual Hey Sioux Falls was sponsored by The First National Bank in Sioux Falls, Pinnacle Productions, Midco and Boyce Law Firm. Visit heysiouxfalls.com for more information.