Featured Event: Mini-Mastermind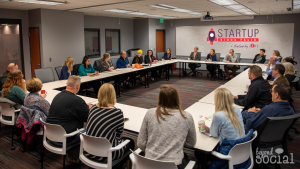 Do you have a business problem you don't know how to solve? Is there an area where your business is sorely lacking? Not sure how to keep growing your business?
Please join Startup Sioux Falls and Zeal Center for Entrepreneurship for a mini-mastermind event. This event will be a round-table discussion where anyone can present a business problem to the group and ask for feedback and advice from other participants attending. Presenters will have 2 minutes to share their problem with the group, and other attendees will have about 5 minutes to share their feedback.
This event will be held on Wednesday, November 27th at 9:00 AM at the Zeal Center for Entrepreneurship, 2329 N Career Avenue. Sioux Falls area entrepreneurs usually gather on Wednesday mornings for the event 1 Million Cups, but that event is taking a break the day before Thanksgiving. So this is the perfect opportunity to still gather together as small business owners and startup founders and do something a little bit different.
This event is being organized by Startup Sioux Falls and the Zeal Center for Entrepreneurship.
Sponsors of Startup Sioux Falls include Tiger 29, Media by JP, First Premier Bank, Boyce Law Firm, First National Wealth Management, CRAIG Computer Service, MSH Architects, Susan CPA, Eide Bailly, and Nelson Commercial Real Estate.
To receive SMS updates for upcoming events, text STARTUP to 72727. SMS Services provided by AGE SMS.