Re:Boot Sioux Falls Beneficiaries: Habitat for Humanity of Greater Sioux Falls
We asked each of the twelve beneficiaries of Re:Boot Sioux Falls to share a bit about their organization.  Read about how the Habitat for Humanity of Greater Sioux Falls is supporting Sioux Falls and the surrounding area.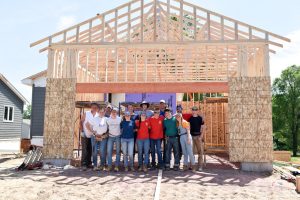 Habitat for Humanity is a nonprofit Christian housing organization that brings families, volunteers, and resources together to build decent, safe, and affordable housing in Greater Sioux Falls. Habitat homeowners help build their own homes alongside volunteers and pay an affordable mortgage. With a little help, they achieve the strength, stability and independence they need to build a better life.
Mission: Seeking to put God's love into action, Habitat for Humanity brings people together to build homes, communities, and hope.
Please share one of the Habitat for Humanity of Greater Sioux Falls success stories.  
Elikana and Josephina earned their Habitat house in Sioux Falls six years ago. As an organization, Habitat for Humanity has enjoyed watching their family grow and thrive inside the comfort and stability of their Habitat house.
This home has created opportunities for a better education for their children, space to open an in-home daycare, and a gathering place for family and friends. Two of their daughters have enrolled in college. Naomi attends University of South Dakota School of Education and dreams of becoming a teacher, and Felicite is enrolled at the University of Sioux Falls, while working full-time at Smithfield, and aspires to be a social worker. Three of their daughters have had children of their own.
Allen Kjesbo is the family's pastor at The Point is to Serve. The church helped the family adjust to life in Sioux Falls after they moved here 9 years ago. "What comes out of a broken world, this is the grace in it," Allen said about Habitat's mission—building strength, stability, and self-reliance within the community.
An important goal of Habitat is to partner with deserving families, giving them a chance to provide better opportunities for their children. Earning a Habitat for Humanity house is a life-changing opportunity for families that impacts generations to come.
How will the Habitat for Humanity of Greater Sioux Falls benefit from the technology received from Re:Boot Sioux Falls?
Technology will be used to increase the effectiveness of our operations by enhancing communication between team members and improving the level of service Habitat can provide to the Sioux Falls community.
What do you wish the public knew about the Habitat for Humanity of Greater Sioux Falls that you don't think they know already?
Habitat for Humanity offers many more services than simply constructing homes. Although many people are aware of Habitat as an organization, they may be surprised by the additional community-building efforts. Habitat's Neighborhood Revitalization program works to improve the quality of life and address safety concerns for existing homeowners through critical home repairs and home preservation projects. Often these projects help elderly or disabled homeowners who are unable to make these updates without assistance. At the same time, the Habitat ReStore provides alternatives to discarding reusable materials by accepting donations of new or gently-used household items and building supplies. Sales of donated goods enable Habitat to build an additional two homes a year, as well as keep over 529 tons of reusable material out of the landfill.
To read more about the Habitat for Humanity of Greater Sioux Falls and their positive impact on the Sioux Falls and surrounding communities, visit their website.