Re:Boot Sioux Falls Beneficiaries: Toy Lending Library of South Dakota
We asked each of the twelve beneficiaries of Re:Boot Sioux Falls to share a bit about their organization. Read about how the Toy Lending Library of South Dakota is supporting the surrounding Sioux Falls area.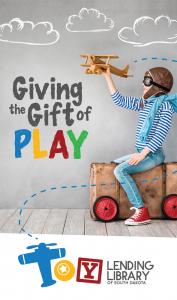 The mission of Toy Lending Library of South Dakota is to create opportunities for children (zero to five years old) that enhance their learning development through play. To fulfill their mission, they create toy boxes that contain a toy, a book, a survey and educational materials. Caregivers can borrow these boxes from 12 locations throughout the Sioux Empire. They are encouraged to take the toy boxes home for children to enjoy. So things do not get mixed up, each box contains tags with pictures of the toys and books contained inside. Once they are ready for a new educational and play experience, they bring it back and exchange their box for another. It is free to use Toy Lending services so the organization encourages caregivers to use as many toy boxes as they want! Once the boxes are returned, the integrity of each box and its contents are checked, cleaned, and repackaged with the help of Lifescape Pathways students. After the boxes are returned to the Toy Lending Library, volunteers help distribute them to the Siouxland Libraries in Sioux Falls.
Several years ago, Toy Lending Library learned that families in the Downtown Sioux Falls area lacked access to toys for their children to play and learn with. Therefore, they are dedicated to spreading the message of the importance of play and assisting people of all economic backgrounds access free, high-quality, safe, educational toys. They recognize that many children learn math concepts, social skills, reasoning, and other life skills through hands-on play.
Please share one of the Toy Lending Library of South Dakota's success stories.
The Toy Library started four years ago with 25 toy boxes. Today, they have 468 toy boxes circulating in 12 locations, including one Head Start classroom. More than 200 toy boxes are enjoyed every month, giving children the opportunities to learn through hands-on play. Caregivers are encouraged to answer a survey from inside each box, some positive feedback from past users include:
"We had a great time as a family creating rhythm and singing songs"
"This is our first experience. My 19 month old son now uses 'recycle' in his vocabulary when we separate. That makes me very happy!"
"Such a wonderful resource for parents. I love that my daughter can play with a variety of toys without me having to buy them. Also because it creates less waste from toys that only used a few times. My daughter loved all of these (toys). They got a ton of use. I will keep using and recommending this service."
How will the Toy Lending Library of South Dakota benefit from the technology received from Re:Boot Sioux Falls?
Since the Toy Lending Library of South Dakota is a volunteer-based organization that continues to grow, they are constantly in need of additional technology to aid in their work. With the computers received from Re:Boot Sioux Falls, they plan to enhance their tags used to track and inventory boxes, as well as utilize the computers for drafting letters, emails, and grant applications.
What do you wish the public knew about the Toy Lending Library of South Dakotathat you don't think they know already?
The Toy Lending Library of South Dakota has 12 locations for caregivers to visit and borrow toy boxes, free of charge. Their office recently moved to the new location of 401 South Spring Ave, Sioux Falls, SD 57104. They recently launched Give the Gift of Play- A Lifelong Gift, where anyone can sponsor a toy box and have his/her name/business on the side of our boxes for a year. Anyone can "Give the Gift of Play", by borrowing toy boxes and playing with the children or by sponsoring toy boxes!
To read more about the Toy Lending Library of South Dakota and their positive impact on the Sioux Falls and surrounding communities, visit their website.